PaperPro® which revolutionized the office stapler market in 2003 with the introduction of the One Touch® stapler contacted FlashPoint to help expand their line of award winning desktop staplers.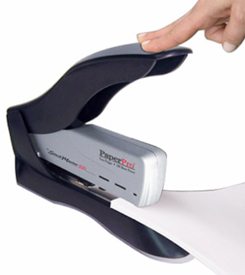 We began working on the StackMaster® 100-sheet stapler Working with PaperPros patented technology and internal engineering team, we developed concepts, mechanical designs, and rough mechanical prototypes. Once the feasibility study was completed, we developed full computer-aided-design (CAD) models and sourced functional prototypes. After a series of testing rounds, the product was transferred to tooling. The product is now on sale worldwide.
For the next expansion project, we worked on taking PaperPro's patented technology to the long reach stapler market. Using a product platform approach, we tested and developed the Long Reach Stapler®. We took the project from concept to tooling kick-off over the course of 7 months, working intimately with PaperPro's internal engineering and manufacturing team. The product is now available in retail outlets worldwide.